---
---
Contact
N.N.
phone: +49 345 55 24077
fax: +49 345 55 27606
verwaltung@scm.uni-halle.de
room E 01.1
Research Cluster
Society and Culture in Motion
Reichardtstraße 6
06114 Halle (Saale)
Prof. Dr. Reinhold Sackmann (Sprecher)
phone: +49 345 55 24251
phone: +49 345 55 24252
reinhold.sackmann@soziologi...
room E.46.0
Emil-Abderhalden-Str. 26–27
06108 Halle (Saale)
---
---
Login for editors
---
Research Cluster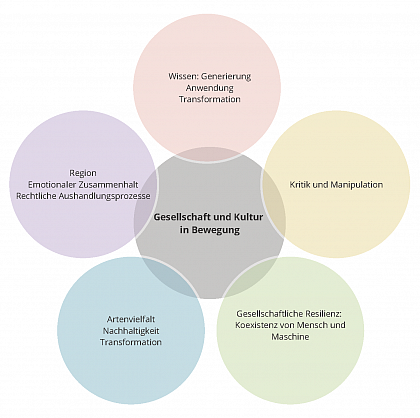 Current research topics at the research cluster
Why do societies and cultures move in a particular direction (and not the other)? The Research Cluster investigates this guiding question by deploying the concepts of techniques of future-making, crisis, and translation. Modern and postmodern societies can be characterized through a variety of techniques of future-making: plans, projects, prognoses, benchmarks, indicators, profit expectations, among others, increase the "shadow of the future" for present actions.
The perception of the shocking consequences of techniques of future-making refers to the notion of crisis. Potentially far-reaching, destructive crises of the financial markets, international debt crises, demographic and ecological crises epitomize the fact that expectations of the future can clash with real-world developments, leading to the readjustment of these expectations or to the intensification of structural crises. A main focus of the Research Cluster is the reconstruction of the complex relationship between techniques of future-making and crises because, on the one hand, crises are often a direct consequence of techniques of future-making, while on the other hand, techniques of future-making are constantly developed and deployed in order to address crises.
Models represent a technique of future-making with perhaps the most serious consequences. Epistemic, practical, or artefact-centred models have been circulating for the past two centuries, shaping world society and world culture. While modernization theory conceptualizes the circulation of these models as processes of diffusion, the empirical analysis reveals that many models are being altered along the way to their local implementation. In fact, this "translation" of practices, knowledge, and artifacts constitutes an important element in the creation of social innovations which, in turn, encourage new practices in other parts of the world. Its international and interdisciplinary orientation enables the Research Cluster to investigate cultural experiences of social catastrophes as well as social translations of models in different countries.
The Research Cluster thus aims to analyse techniques of future-making in order to gain a deeper understanding of unintended consequences of these techniques, as well as of the innovative translations of these techniques and models.
Partner Institutions
Forschungsinstituts gesellschaftlicher Zusammenhalt (FGZ)
---
---